Finalist - Gas Safety Initiative of the Year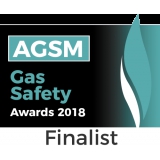 21 March 2018
We are pleased to announce that our Cookerflex™ patented fire safe cooker hoses have been shortlisted as a finalist for the Gas Safety Initiative of the Year award at AGSM 2018.
All Cookerflex bayonet and micropoint hoses have a patented end fitting design that shuts off the gas supply in case of fire near the gas cooker. With gas cookers being a main cause of fires in kitchens we developed and introduced this technology to help save lives. Cookerflex gas hoses and fittings by Tesla UK Ltd are tested and approved, to their respective standards, by BSI and are approved under the BSI Kitemark ensuring quality is maintained through factory audit of our manufacturing process. We also have all our own in-house testing to ensure compliance with standards of safety and all gas hoses and fittings are 100% leak tested before despatch.
If you would like to see the product first hand, why not come and see us at the AGSM Conference & Exhibition or Installer 2018 where the Tesla team will be happy to answer any of your questions.